After I tell people one of the ways to acquire a lot of points is by getting a lot of new card sign up bonus offers, they always worry about their credit scores.  I really can't tell you how often I've been in a lie flat seat on an international plane I paid $87 in taxes and fees for instead of $3,587 while being unable to sleep with so much worry about some number set by some company.  Not to make light of real financial challenges or problems people have had with credit/rebuilding credit, and if that is a real problem then one should not be playing this game.  In reality the worry vs. reality is far overblown.
Buying a home or refinancing a mortgage?  Buying a car?  How often does someone even use their credit score?  Both things I've done in the past year while playing the game anyway.  First things first – I've advised many times to start off with two or three cards, which is easily enough to obtain a pretty solid reward.  The worry is always that this will be some big drop to a credit score – because someone heard something or was told something or whatever.  Think about it though, does merely opening a few more cards mean one is financially reckless or that that simple activity is going to drop their score in any meaningful amount?  An application for several at once is seen as a potential risk (vs. nothing) as if someone immediately need access to credit, but the blip down is barely anything, like 10 points, usually meaningless especially if the score isn't going to even be used.  It builds up after a few months anyway.
Here's my score:
Here's all my fun activity:
Two or three new cards?  I have tons of cards coming in and out here – and even more denials and hard inquiries.  The above is from Credit Karma – what about some real scoring?
Could it be higher?  Yes, but who cares?  It doesn't get anything but bragging rights, if a high credit score could even be considered as such.  I'll take a seat to somewhere instead.  Should anyone be scared of applying for a few more cards dropping their score in any meaningful way?  Even FICO's own website says it's nothing to worry about.  Per this page, the number of denials does not factor in either.  See it anywhere in this chart?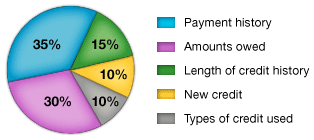 The fact is one can still have a good score while playing this game hard, let alone the entry level two to three cards to get going that so many people seem terrified of getting, because it will push down some magic number a trivial amount for a small amount of time in which no one will look at it anyway.
What about business cards?  Per Million Mile Secrets, Citi, Chase, and Amex don't report business card data for personal credit scoring.  Tada, the 3 banks with the most generous offers don't even report things that contribute to a personal score – Capital One does, and others are questionable, but…  rarely do I ever even want one of their cards to begin with.  An inquiry is done when credit is requested for these cards (at application time) but that's it.
What's the bottom line?
The same financial advice and responsibility applies whether one has 2 cards or 20 cards.
Worrying about opening new cards, for the most part, is worrying about absolutely nothing.